About Us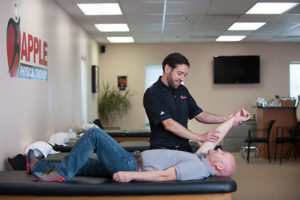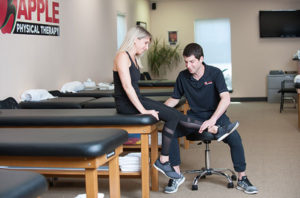 Apple Physical Therapy staff members take great pride in offering consistency of care and individually tailored programs for patients of all ages, pediatric through senior citizens.
We provide appropriate exercises, manual therapy, patient education and home exercise programs.
Ask The Physical Therapist
Meet The Physical Therapist

Patient Testimonials
If you have to have physical therapy in Cherry Hill, this is the place to go. They are fantastic.
Leslie P., Cherry Hill physical therapy patient, 5-star review on Google
I have had multiple injuries over the past few years, and have tried many physical therapists. Adam is by far the best! He is extremely attentive, and I feel like I am getting personal attention every time I go. The Marlton physical therapy staff is so nice, and the atmosphere is very soothing. This place really cares about how your injury affects your body AND your mind. If you need physical therapy, Apple Physical Therapy is THE place to go!
Debbie P., Marlton physical therapy patient, 5-star review on Yelp
The Apple Physical Therapy team was able to get me back on the ice with the Flyers within 3 months after my shoulder surgery! Thank you!
Joseph R., Cherry Hill physical therapy patient, 5-star review on Facebook
Apple has the knowledge, training, and experience to give my patients therapy second to none. I can always feel comfortable that my patients will receive the optimal quality of care to maximize their clinical results.
Craig R., M.D. Orthopedist
Worked with Apple Physical Therapy on my rotator cuff injury. They are friendly and helpful, and my shoulder has improved through the exercises and advice given..
Tom B., Cherry Hill physical therapy patient, 5-star review on Google
Always a pleasant experience at Apple Physical Therapy! Very nice and always accommodating! Most importantly Adam is an excellent physical therapist!
Shiela W., Marlton physical therapy patient, 5-star Google on Yelp