What are my benefits?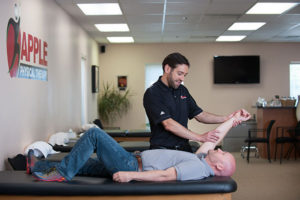 We'll do all the research and call you within 1 business day!
When you are in pain, your first thought is not "Will my health insurance cover physical therapy?". Here at Apple Physical Therapy, we are experts in navigating the health insurance system. You don't have to be a patient of Apple Physical Therapy to put us to work for you! Call us with your insurance information, and we'll get back to you within 1 business day with a complete explanation of your benefits and how you can make the most of them for physical therapy. We'll explain your benefits in simple language and how you can use your insurance to cover the cost of physical therapy. That's our job and we're here to help EVERYONE!
Your Benefits
Ask The Physical Therapist
Meet The Physical Therapist

Patient Testimonials
If you have to have physical therapy in Cherry Hill, this is the place to go. They are fantastic.
Leslie P., Cherry Hill physical therapy patient, 5-star review on Google
I have had multiple injuries over the past few years, and have tried many physical therapists. Adam is by far the best! He is extremely attentive, and I feel like I am getting personal attention every time I go. The Marlton physical therapy staff is so nice, and the atmosphere is very soothing. This place really cares about how your injury affects your body AND your mind. If you need physical therapy, Apple Physical Therapy is THE place to go!
Debbie P., Marlton physical therapy patient, 5-star review on Yelp
The Apple Physical Therapy team was able to get me back on the ice with the Flyers within 3 months after my shoulder surgery! Thank you!
Joseph R., Cherry Hill physical therapy patient, 5-star review on Facebook
Apple has the knowledge, training, and experience to give my patients therapy second to none. I can always feel comfortable that my patients will receive the optimal quality of care to maximize their clinical results.
Craig R., M.D. Orthopedist
Worked with Apple Physical Therapy on my rotator cuff injury. They are friendly and helpful, and my shoulder has improved through the exercises and advice given..
Tom B., Cherry Hill physical therapy patient, 5-star review on Google
Always a pleasant experience at Apple Physical Therapy! Very nice and always accommodating! Most importantly Adam is an excellent physical therapist!
Shiela W., Marlton physical therapy patient, 5-star Google on Yelp
I highly recommend Apple PT. I have used them twice now, and would not hesitate to keep using them. I can speak for the Marlton office. The staff is professional, kind, and courteous. Katie, at the front desk, will do her best to get you in immediately. Once a patient, it is just as easy to schedule appointments. They are very flexible and will make sure you get the appointment time best suited for your needs. Adam and his staff are awesome. They all make you feel like you matter and are valued. They listen to you!!! The office is clean and convenient to find. It is spacious, yet you get a comfy feeling when you walk in. I give them my highest recommendation.
Michelle Pryor