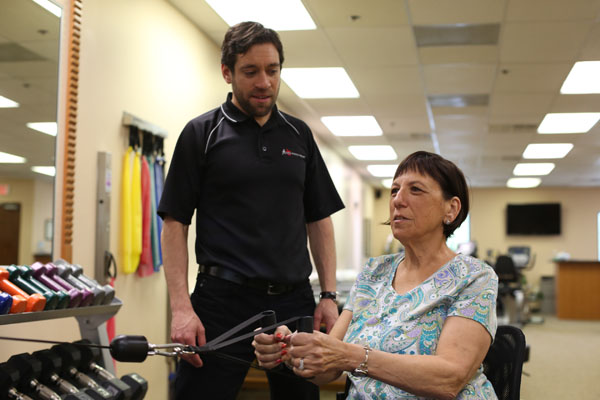 Balance problems exist when an individual has difficulty maintaining a stable and upright position. A range of factors can cause balance problems including; muscle weakness, joint stiffness, inner ear problems (vestibular system), medications, and lack of activity. A variety of medical conditions can also increase your risk of having balance problems such as; stroke, Parkinson's Disease, Multiple Sclerosis, brain injury, arthritis, spinal cord injury, diabetes, and cognitive diseases. Balance problems occur when 1 or more of the following systems in the body are not working properly; vision, inner ear (vestibular), muscular system and awareness of the body's position in space (proprioception). Balance problems can make a person fearful of performing simple daily activities. As a result, they may lose strength and become frail because they avoid movements that may seem strenuous or challenging. A person who has balance problems may start to feel frustration about the condition and become depressed.
The Physical Therapists at Apple Physical Therapy will design a personalized treatment plan specific to you by identifying the cause of your balance problems. We work with you to identify potential falling hazards by assessing your foot wear and discussing home safety such as loose rugs, poor lighting, unrestrained pets or other possible obstacles. We will incorporate strengthening exercises to address muscle weakness specifically in your trunk, core, hips and legs. We will show you exercises to improve your ability to maintain proper posture. Good posture can improve your balance. We will teach you exercises to improve your static balance (standing still or sitting) and dynamic balance (balance while moving) and progress these exercises as your skills improve. We will help you regain the ability to move around with ease, coordination and confidence. As you regain confidence in your ability to move freely, you will be able to enjoy your normal daily activity safely and with decreased risk of injury.
With convenient locations in both Cherry Hill NJ and Marlton NJ, Apple Physical Therapy proudly serves such areas as Cherry Hill, Marlton, Medford, Voorhees, Mount Laurel, Maple Shade, Berlin, Moorestown and all of South Jersey's Camden and Burlington counties. If you are looking for a Physical Therapist in the Cherry Hill area, we welcome you to our practice. Meet our team and schedule your appointment with us today!