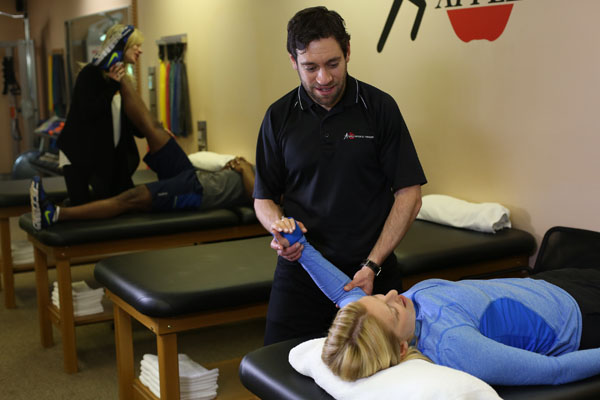 The stiffening of the shoulder due to scar tissue buildup and inflammation in the anterior joint capsule which results in pain with movement and loss of range of motion. There are a few different causes of this condition; post-traumatic due to an injury to the shoulder, immobilization of your arm in a sling after surgery or a fracture, and/or shoulder pain which causes someone to stop moving their shoulder and arm.
The Physical Therapists at Apple Physical Therapy will design a personalized treatment plan specific to you and your injury that will include stretching and range of motion exercises to improve mobility in your shoulder. We will incorporate strengthening exercises targeting the muscles of your shoulder complex including your scapula, rotator cuff muscles, deltoids, and the muscles of your chest and arms. Manual therapy techniques will be included, such as range of motion and joint mobilizations to your shoulder. If necessary, your PT may elect to use modalities such as heat, ice and/or electrical stimulation to help reduce pain and ready the body for exercise.
With convenient locations in both Cherry Hill NJ and Marlton NJ, Apple Physical Therapy proudly serves such areas as Cherry Hill, Marlton, Medford, Voorhees, Mount Laurel, Maple Shade, Berlin, Moorestown and all of South Jersey's Camden and Burlington counties. If you are looking for a Physical Therapist in the Cherry Hill area, we welcome you to our practice. Meet our team and schedule your appointment with us today!