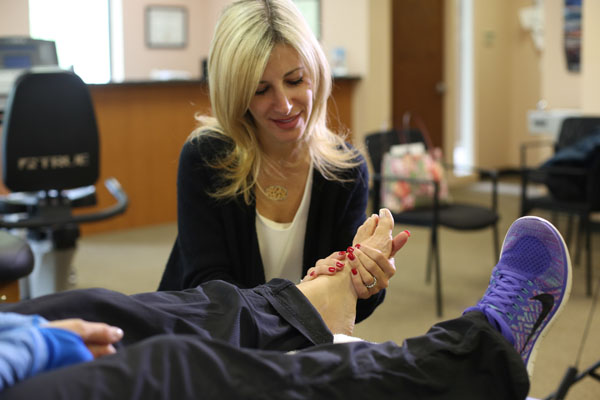 An ankle fracture is a completely or partially broken bone on 1 or both sides of the ankle joint. There are several types of ankle fractures and 1, 2, or 3 bones may be fractured. The classification is based on the number of bones broken: lateral malleolus fracture, only the bone on the outside of the ankle is broken, the fibula, medial malleolus fracture, only the bone on the inside of the ankle is broken, the tibia, bi-Malleolar fracture, two bones are broken, the tibia and fibula, trimalleolar fracture, three bones are broken, the fibula, tibia and the posterior malleolus, the tibia at the back of the foot. Most ankle fractures are caused by twisting injuries and falls, or injuries experienced during sports.
Whether you have surgery for your fracture or not, the Physical Therapists at Apple Physical Therapy will design a personalized treatment plan specific to you and your injury that will include range of motion, stretching and strengthening exercises to improve mobility and strength in your ankle, knee, hip and core musculature to allow you to return to normal daily activity. We will include gait training and balance training exercises to allow you to return to normal and safe ambulation. Manual therapy techniques such as massage and stretching of the ankle, knee and surrounding muscles to restore normal motion of the ankle and leg will be included.  If necessary, your PT may elect to use modalities such as heat and/or ice to help reduce pain and ready the body for exercise.
With convenient locations in both Cherry Hill NJ and Marlton NJ, Apple Physical Therapy proudly serves such areas as Cherry Hill, Marlton, Medford, Voorhees, Mount Laurel, Maple Shade, Berlin, Moorestown and all of South Jersey's Camden and Burlington counties. If you are looking for a Physical Therapist in the Cherry Hill area, we welcome you to our practice. Meet our team and schedule your appointment with us today!