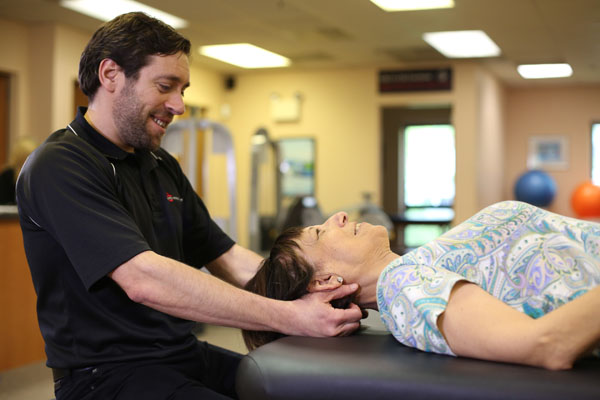 Compression of a cervical nerve root (pinched nerve in the neck) that leads to radiating pain from the neck to the shoulder, shoulder blade, arm or hand. In addition to pain, you may also feel weakness, tingling or lack of sensation. The spinal nerves can be pinched due to a variety of causes; arthritis, herniated or bulging disks, spinal stenosis, or tumor.
The Physical Therapists at Apple Physical Therapy will design a personalized treatment plan specific to you and your injury. Our first goal will be to incorporate pain management techniques to relieve your pain. This may include the use of modalities such as heat, ice and/or electrical stimulation. We will also incorporate manual therapy (gentle hands on techniques) such as manual traction, massage and stretching. Traction can be an effective form of treatment to relieve pressure in the cervical region.   Gentle massage helps the muscles of the cervical spine and scapular region relax and improves blood supply to the area. We will also incorporate specific strengthening exercises focused on your core musculature and the muscles of your shoulders, arms and legs. This will allow you to maintain proper posture both at rest and during activity. We will include stretching and range of motion exercises to improve mobility in your neck, shoulders and arms.
With convenient locations in both Cherry Hill NJ and Marlton NJ, Apple Physical Therapy proudly serves such areas as Cherry Hill, Marlton, Medford, Voorhees, Mount Laurel, Maple Shade, Berlin, Moorestown and all of South Jersey's Camden and Burlington counties. If you are looking for a Physical Therapist in the Cherry Hill area, we welcome you to our practice. Meet our team and schedule your appointment with us today!