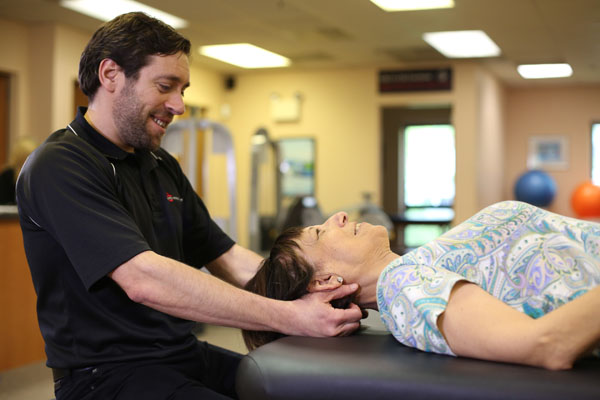 An injury to the soft tissue of the neck caused by sudden extension (backward bending) of the neck and flexion (forward bending) of the neck usually from a contact sport or a motor vehicle accident.   Following the initial injury you may feel pain, muscle spasms, stiffness, dizziness, headache and vomiting.
The Physical Therapists at Apple Physical Therapy will design a personalized treatment plan specific to you and your injury that will include stretching and range of motion exercises to improve mobility in your neck, shoulders and upper back. We will talk to you about posture. Poor posture unbalances the spine and creates stress on the neck which may impede healing. We will incorporate strengthening exercises to improve on the patient's ability to maintain proper posture both at rest and during activity. Manual therapy (gentle hands on techniques) such as massage, stretching and traction may be used to improve the mobility of stiff joints and tight muscles that may be contributing to your symptoms. If necessary, your PT may elect to use modalities such as heat, ice and/or electrical stimulation to help reduce pain and ready the body for exercise.
With convenient locations in both Cherry Hill NJ and Marlton NJ, Apple Physical Therapy proudly serves such areas as Cherry Hill, Marlton, Medford, Voorhees, Mount Laurel, Maple Shade, Berlin, Moorestown and all of South Jersey's Camden and Burlington counties. If you are looking for a Physical Therapist in the Cherry Hill area, we welcome you to our practice. Meet our team and schedule your appointment with us today!