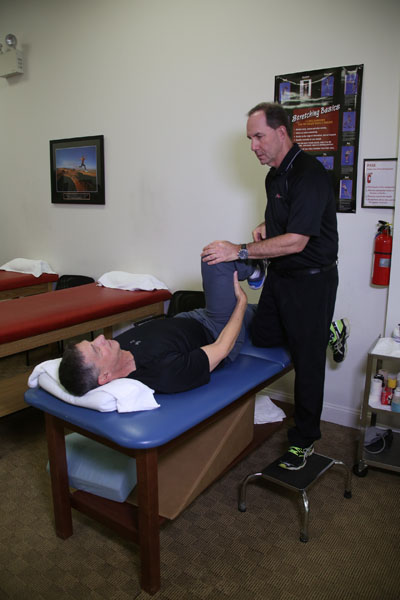 Hamstrings make up the primary muscle group responsible for straightening the hip and bending the knee.  It is made of three muscles in the back of thigh that extend from the pelvis to the knee.  Hamstring injuries typically occur when there is excessive force placed across the muscles.  This typically occurs during sudden starts or stops when running, cutting, jumping or when the muscle is overstretched.  Risk factors for hamstring injuries include: prior history of hamstring strain, muscle imbalances in the legs, muscle tightness, inadequate warm up and muscle fatigue.  Hamstring strains lead to a sudden, sharp pain in the buttocks or back of the thigh, a feeling of a pop or tearing in the muscle, bruising, swelling, tenderness to touch, pain with sitting, pain with straightening the leg and pain with walking.
The Physical Therapists at Apple Physical Therapy will design a personalized treatment plan specific to you and your injury that will include special strengthening exercises to your legs and core musculature. We will include manual therapy techniques such as massage and gentle stretching techniques to improve healing of the injured muscle and to restore normal motion.  If necessary, your PT may elect to use modalities such as heat and/or ice to help reduce pain and ready the body for exercise.
With convenient locations in both Cherry Hill NJ and Marlton NJ, Apple Physical Therapy proudly serves such areas as Cherry Hill, Marlton, Medford, Voorhees, Mount Laurel, Maple Shade, Berlin, Moorestown and all of South Jersey's Camden and Burlington counties. If you are looking for a Physical Therapist in the Cherry Hill area, we welcome you to our practice. Meet our team and schedule your appointment with us today!