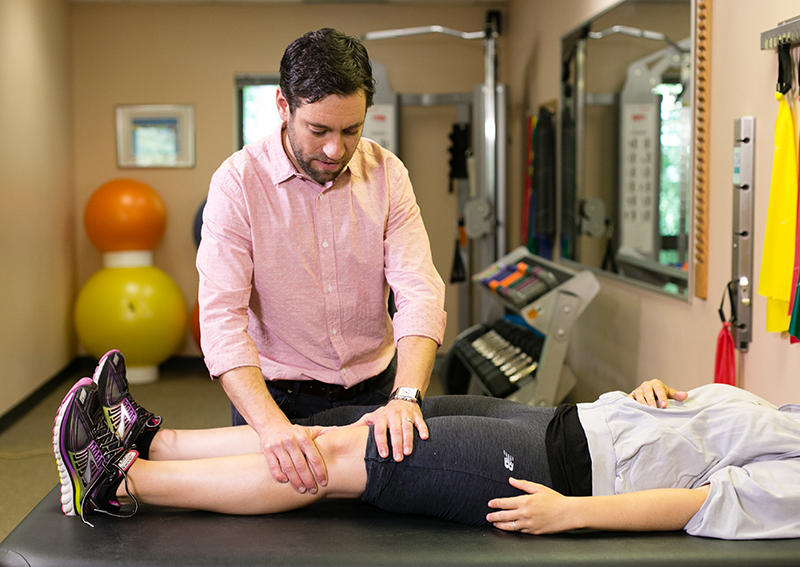 Also referred to as infrapatellar bursitis, it occurs when 1 or more of the bursa around the knee becomes damaged, irritated or inflamed. Normally a bursa acts as a cushion or friction reducer between 2 body parts, however prolonged pressure (such as prolonged kneeling) and/or repetitive motions can cause friction and lead to bursitis. Bursitis can also occur following a knee surgery or knee replacement or with direct trauma to the knee. It leads to swelling and redness on the front of the knee, tenderness on the front of the knee, and pain with kneeling and knee joint stiffness.
The Physical Therapists at Apple Physical Therapy will design a personalized treatment plan specific to you and your injury that will include range of motion, stretching and strengthening exercises to improve mobility and strength in your knee, leg and core musculature to allow you to return to normal daily activity.  We will include manual therapy techniques such as massage and stretching of the knee and surrounding muscles to restore normal motion of the knee and leg and to facilitate healing.  If necessary, your PT may elect to use modalities such as ice, heat, and/or ultrasound to decrease swelling, pain and ready the body for exercise.
With convenient locations in both Cherry Hill NJ and Marlton NJ, Apple Physical Therapy proudly serves such areas as Cherry Hill, Marlton, Medford, Voorhees, Mount Laurel, Maple Shade, Berlin, Moorestown and all of South Jersey's Camden and Burlington counties. If you are looking for a Physical Therapist in the Cherry Hill area, we welcome you to our practice. Meet our team and schedule your appointment with us today!