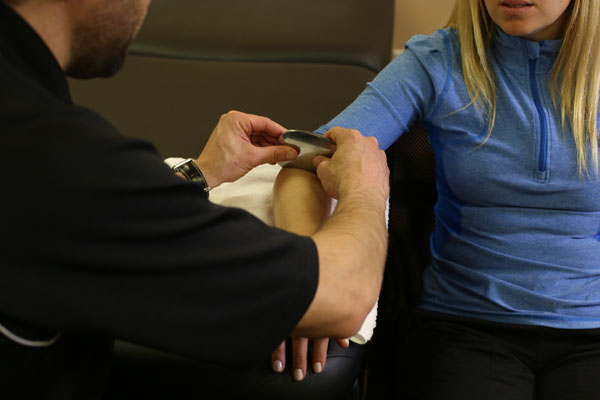 A condition that occurs when the tendons on the inside of the forearm become irritated, inflamed and painful due to repetitive use of the hand, wrist and forearm. The muscles that are affected by medial epicondylitis are those that function to flex the wrist, fingers and thumb and pronate (rotate palm down) the wrist and forearm. The muscles come together and attach to the humerus bone of the upper arm. This bony prominence, called the medial epicondyle, is located along the inside of the elbow. Pain occurs on or near the medial epicondyle, at the area where the tendon connects to bone. Repetitive forces can cause the tendon to become tender and irritated. Medial epicondylitis leads to pain along the inside of the forearm, numbness and tingling that radiates from the inside of the elbow down into the hands and fingers, tenderness to touch and swelling along the inside of the forearm, weakness in the hand and forearm and elbow stiffness.
The Physical Therapists at Apple Physical Therapy will design a personalized treatment plan specific to you and your injury that will include stretching and strengthening exercises to improve mobility and strength in the elbow, wrist and hand.  We will include manual therapy techniques such as massage and, if indicated, we will include the use of Graston Technique, instrument assisted massage to help break down scar tissue and muscular restrictions.  If necessary, your PT may elect to use modalities such as heat and/or ice to help reduce pain and ready the body for exercise.
With convenient locations in both Cherry Hill NJ and Marlton NJ, Apple Physical Therapy proudly serves such areas as Cherry Hill, Marlton, Medford, Voorhees, Mount Laurel, Maple Shade, Berlin, Moorestown and all of South Jersey's Camden and Burlington counties. If you are looking for a Physical Therapist in the Cherry Hill area, we welcome you to our practice. Meet our team and schedule your appointment with us today!