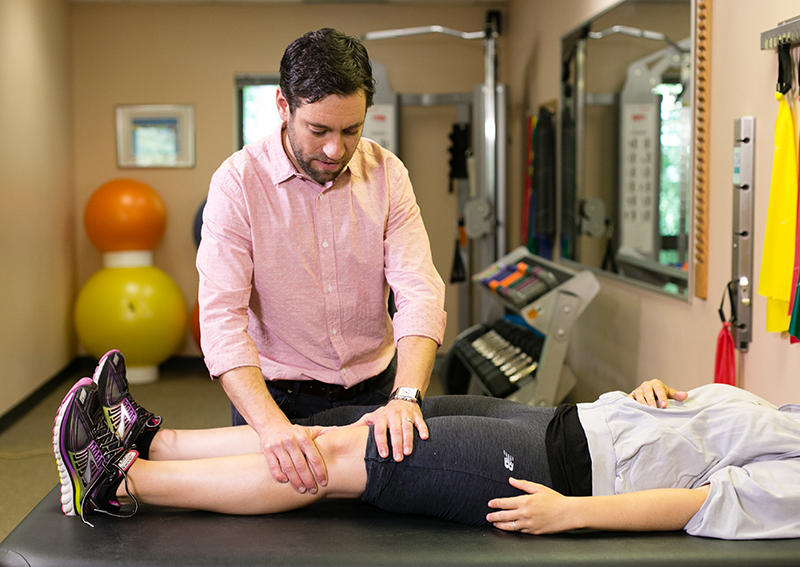 Inflammation and pain at the patellar tendon, just below the knee cap. This structure is the tendon attachment of the quadriceps muscle to the lower leg. It is very important in straightening the knee or slowing the knee during bending or squatting.  Patellar tendonitis is an overuse injury from repetitive overloading the knee and is common in those who participate in sports that require frequent jumping, in runners (especially with frequent running down hill), and in people with poor flexibility and strength in the hamstrings, gluteals and quadriceps musculature.
The Physical Therapists at Apple Physical Therapy will design a personalized treatment plan specific to you and your injury that will include range of motion, stretching and strengthening exercises to improve mobility and strength in your knee, leg and core musculature to allow you to return to normal daily activity.  We will include manual therapy techniques such as massage and stretching of the knee and surrounding muscles to restore normal motion of the knee and leg and to facilitate healing.  If necessary, your PT may elect to use modalities such as ice, heat, and/or ultrasound to decrease swelling, pain and ready the body for exercise.
With convenient locations in both Cherry Hill NJ and Marlton NJ, Apple Physical Therapy proudly serves such areas as Cherry Hill, Marlton, Medford, Voorhees, Mount Laurel, Maple Shade, Berlin, Moorestown and all of South Jersey's Camden and Burlington counties. If you are looking for a Physical Therapist in the Cherry Hill area, we welcome you to our practice. Meet our team and schedule your appointment with us today!