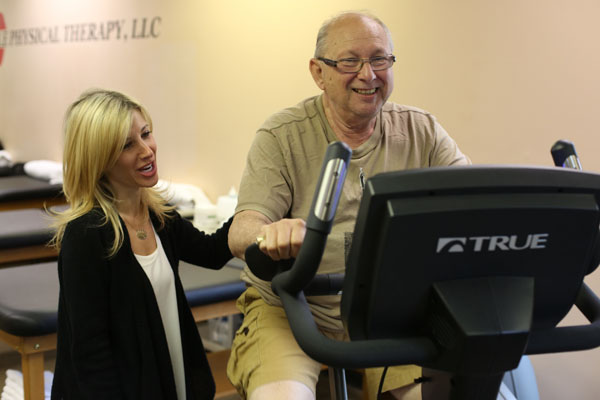 A pelvic fracture is a crack or break in one or more of the pelvic bones it is sometimes referred to as a hip fracture or broken hip.  Pelvic fractures most commonly occur in adolescents and the elderly.  Adolescents typically experience fractures of the tips of one of the pelvic bones resulting from an athletic injury.  The elderly frequently fracture their pelvis from falls onto the side of their hip.  These falls can be caused by balance problems, vision problems, medication side effects, or unintended obstacles such as a pet, the edge of rugs and/or slippery floors.
Whether you have surgery for your fracture or not, the Physical Therapists at Apple Physical Therapy will design a personalized treatment plan specific to you and your injury that will include range of motion, stretching and strengthening exercises to improve mobility and strength in your hip, core and leg musculature to allow you to return to normal daily activity. There are many muscles in the hip region that are important for balance and steadiness when walking; therefore, we will train your balance to decrease the risk of future falls and increase your safety.  We will include manual therapy techniques such as massage and stretching of the hip and surrounding muscles to restore normal motion of the hip and leg.  If necessary, your PT may elect to use modalities such as heat and/or ice to help reduce pain and ready the body for exercise.
With convenient locations in both Cherry Hill NJ and Marlton NJ, Apple Physical Therapy proudly serves such areas as Cherry Hill, Marlton, Medford, Voorhees, Mount Laurel, Maple Shade, Berlin, Moorestown and all of South Jersey's Camden and Burlington counties. If you are looking for a Physical Therapist in the Cherry Hill area, we welcome you to our practice. Meet our team and schedule your appointment with us today!