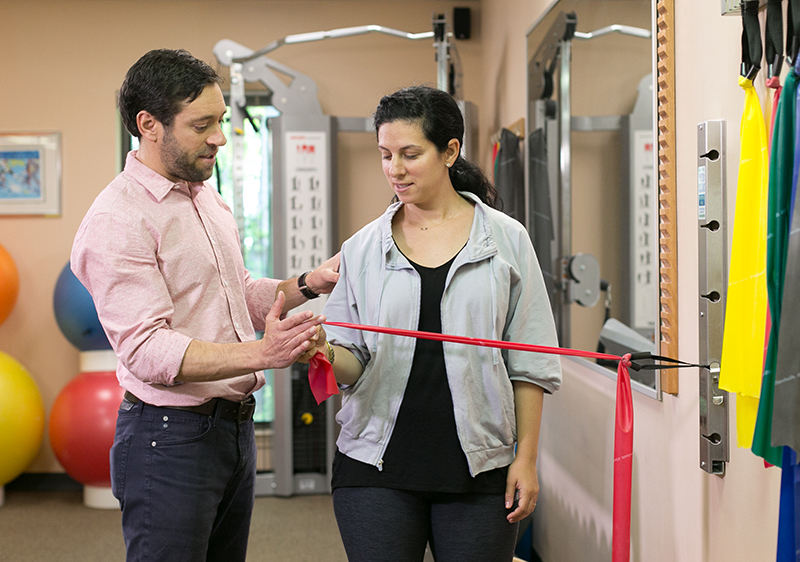 Inflammation and irritation of the tendons of the rotator cuff muscles. When the tendons become swollen and inflamed they can become pinched (an impingement) with arm elevation causing pain in the shoulder. It is usually caused by inadequate strength of the rotator cuff muscles to depress the head of the humerus in the shoulder during arm elevation.   People who perform repetitive or overhead arm movements are more at risk for developing rotator cuff tendonitis. People who have poor posture are also at more risk for rotator cuff tendonitis. If left untreated, it may lead to a rotator cuff tear. Shoulder impingement leads to pain in the shoulder when moving the arm overhead, out to the side and/or behind the back and pain when attempting to sleep on the involved shoulder. It often also leads to restriction in shoulder motion and decreased strength in the shoulder.
The Physical Therapists at Apple Physical Therapy will design a personalized treatment plan specific to you and your injury that will include range of motion, stretching and strengthening exercises to improve mobility and strength in your shoulder to allow you to return to normal daily activity. We will include manual therapy techniques such as massage and stretching of the shoulder and surrounding muscles to improve motion and decrease the impingement in your shoulder. If necessary, your PT may elect to use modalities such as heat, ice and/or electrical stimulation to help reduce pain and ready the body for exercise.
With convenient locations in both Cherry Hill NJ and Marlton NJ, Apple Physical Therapy proudly serves such areas as Cherry Hill, Marlton, Medford, Voorhees, Mount Laurel, Maple Shade, Berlin, Moorestown and all of South Jersey's Camden and Burlington counties. If you are looking for a Physical Therapist in the Cherry Hill area, we welcome you to our practice. Meet our team and schedule your appointment with us today!