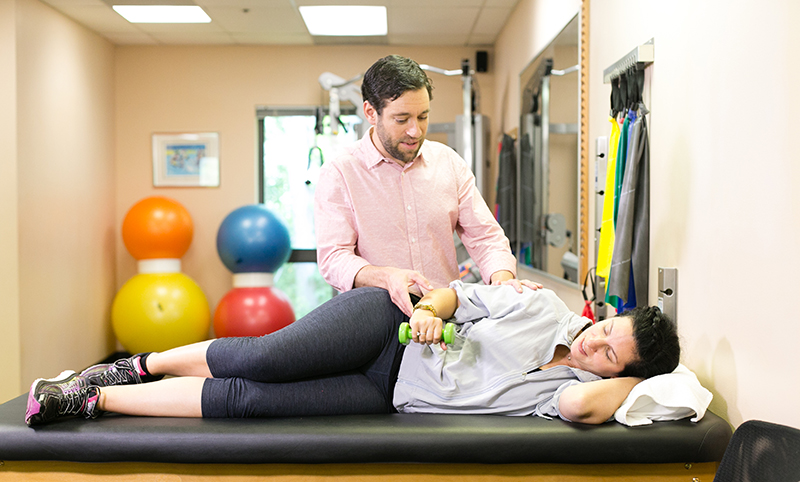 Generalized laxity of the glenohumeral joint of the shoulder that leads to recurrent dislocations of the shoulder or the feeling of the shoulder slipping in and out of its socket. General signs and symptoms include shoulder pain that increases with pushing, pulling and performing overhead activities, a feeling that your shoulder is slipping out of place, loss of strength of the shoulder and upper arm and/or numbness in the upper arm from pinching, stretching or pressure on the blood vessels or nerves.
The Physical Therapists at Apple Physical Therapy will design a personalized treatment plan specific to you and your injury that will include strengthening exercises to improve stability and strength in your shoulder. We will focus on improving the strength of the rotator cuff muscles and scapular stabilizers to protect you from further injury. Manual therapy techniques such as resisted movements to normalize muscular strength and control will be included. We will incorporate stretching and range of motion exercises to muscles that are tight or stiff to restore normal motion of the shoulder and arm. If necessary, your PT may elect to use modalities such as heat and/or ice to help reduce pain and ready the body for exercise.
With convenient locations in both Cherry Hill NJ and Marlton NJ, Apple Physical Therapy proudly serves such areas as Cherry Hill, Marlton, Medford, Voorhees, Mount Laurel, Maple Shade, Berlin, Moorestown and all of South Jersey's Camden and Burlington counties. If you are looking for a Physical Therapist in the Cherry Hill area, we welcome you to our practice. Meet our team and schedule your appointment with us today!